We're on Etsy.!
  Shop for all of William Gilkerson's prints and lithos on Etsy.com.
Visit shop
.
To purchase one of Mr. Gilkerson's original works of art, many of which are featured in the Gallery section, please contact us directly. Original works are listed below.
In 1720, among the Seychelle Islands north of Madagascar, Captain Macrea of the Royal East India Company ship Cassandra was pounced upon by two English pirates greatly outgunning his ship.  He lost his ship but not his life because of the respect he had earned from the pirates for his stalwart defense.
Aquarelle, framed, 27″ x 23″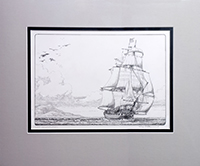 USS CONSTITUTION in the Pacific during the Mexican War, spring 1846- fall 1847.
Ink drawing, matted, 14 1/2″ x 13″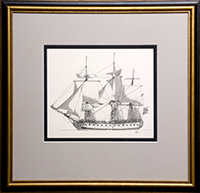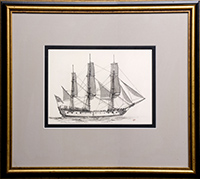 Continental ship RANGER, corvette or also called sloop of war.
"The RANGER taken all together will in my judgement prove the best Cruizer in America" – John Paul Jones, 1777.
Framed ink, 14 1/2″ x 13 3/4″
Continental ship Alfred, framed ink, 14″ x 12 3/4″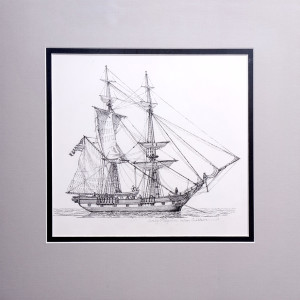 The Brig PILGRIM. She is the ship that Richard Henry Dana sailed on and then wrote the book "Two years before the mast" about the voyage he took between Boston and California 1847.
Matted ink, 12 3/4″ x 12 3/4″.