William Gilkerson
William Gilkerson was a professional marine artist, author and historian whose work is internationally known.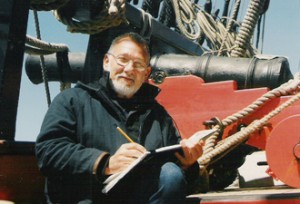 ARTIST
Gilkerson's drawings, watercolours, and oils have been featured in a dozen major institutional exhibitions; they have been anthologized and reproduced in scores of books, magazines, and on film. To date some 85 prints and lithographs of his pictures have been produced (see Prints & Lithos). He has been dubbed "the father of modern scrimshaw" by various scrimshaw authorities.
For a selection of original work currently for sale from the artist's studio, visit our Shop.  Gilkerson's original works have been commissioned or purchased by some  50 public and private institutions, among them:
| | |
| --- | --- |
| Collection Archéologie Navale Francaise, Jean Boudriot | National Maritime Museum, San Francisco |
| Frammuseet, Oslo | Kendall Whaling Museum |
| Independence Seaport Museum, Philadelphia | New Bedford Whaling Museum |
| Massachusetts Institute Of Technology, Hart Collection | Peabody Essex Museum Of Salem |
| Museum Of Fine Arts, Boston | Sea Education Association, Woods Hole |
| Nantucket Whaling Museum | South Street Seaport Museum, New York |
| National Geographic Society | U.S. Naval Academy Museum |
| National Library Of Scotland | USS Constitution Museum |
| National Library Of Congress | U.S. Naval War College, Newport |
| Ventura County Maritime Museum | Whaling Museum Of The Pacific, Honolulu |
AUTHOR
William Gilkerson has authored 13 books to date with a 14th in progress – a sequel to Pirate's Passage.  They have ranged from naval history through satire, art, and fiction, plus on-the-spot journalism for various newspapers and magazines.
HISTORIAN
Underlying Gilkerson's art and writing is a grounding in genuine history that saturates both. His quest for visual and factual authenticity has led to substantive historical contributions of his own. His two-volume treatise on the development of ship's weapons, Boarders Away I & II, (see Books), have proven the standard texts in their field as has Jean Boudriot's book on John Paul Jones's lost flagship BonneHomme Richard, inspired and illustrated by Gilkerson, in collaboration. On a more general level, Gilkerson's historiography is best summarized by a further reading on this website, and the comments of his peers.
BIOGRAPHY
(by courtesy of Donald Sutherland, film producer of Pirate's Passage).
William Gilkerson was born the 25th of July, 1936, in Chicago, Ill. to Ruth Henry (or perhaps Henri), a Scottish immigrant via Canada, and immediately adopted by the Gilkerson family of Wisconsin as intended heir to the family shoe business. In Gilkerson's words, "the unlikelihood of that became ever more apparent over time." His upbringing ranged between shoe towns in Wisconsin, Missouri, and Tennessee, with the Clayton, Mo. school system providing most of his primary and secondary education. The latter was several times interrupted by "various side adventures, with most of my 16th year on my own in Paris, allegedly studying art at the Academie Julian, living on the pittance my adoptive mother could send me." An earlier adventure (at 14) included voyages between Ecuador and New Orleans as mess boy aboard a Norwegian freighter.  Later at 17 a stint  in the US Marine Corps earned him the Expert Rifleman decoration and a stripe.  He was honorably discharged in 1954.
Following that he made his livelihood as a nightclub sketch artist and freelance illustrator, attending Washington University in St. Louis for two years at its Bixby School of Fine Arts before going to Norway and buying a 44' antique sailing sloop. He learned seamanship while navigating it around much of Northern Europe, making and selling on-the-spot sketches, an activity that sparked his lifelong career as a marine artist, but with periodic interruptions into writing. After his return to the US (first as managing editor of the St. Louis Magazine, then as an editor and later special features writer for the San Francisco Chronicle) he lived aboard his next boat, a 38' ketch in Sausalito.  In  1970 he abandoned his newspaper career and joined The Golden Toad, a group of street musicians, as bagpiper and "mouth, begging quarters for the hat". During this time, he fell in love with Kerstin Helleberg whose Swedish singing was  "a burst of birdsong unto the world; she inspired me to return to a career, any career that would again provide a viable livelihood".  Bill and Kerstin married in 1978.
Gilkerson's work as a marine artist and noted scrimshander took him from California to Massachusetts. Throughout his life, he interspersed his writing and painting, producing ten major institutional exhibitions (including the U.S. Naval Academy Museum, Annapolis, and the Peabody Museum of Salem's first one-man show for a living artist), until his final relocation to Nova Scotia in 1987. There he dwellt, off Mahone Bay, sailing with Kerstin and family aboard their ancient cutter Elly.
In his career, Gilkerson's art was commissioned and collected by some 50 public institutions and museums; his work has been anthologized and reproduced in scores of books and magazines, and he has authored and illustrated 13 books, with more to be published posthumously.  
In 2006 Gilkerson won the Governor General's Award for Children's Literature for his novel "Pirate's Passage" citing it as:"Steeped in wit, philosophy and mystical ambiguity, William Gilkerson's Pirate's Passage takes a maverick approach to history. A challenging children's novel with a dangerous edge. Pirate's Passage is a work of genius, a benchmark of Canadian literature." According to its author: "I didn't write it for children, just in such a way that children could read it; I meant it for all ages."
William Gilkerson died after a long illness on November 29th, 2015.